Need someplace to take care of your pet when you are out of town? V.I.P. Pet Boarding and Day Care is here to help you out.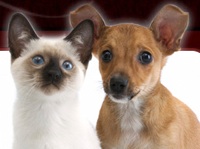 V.I.P. Pet Boarding and Day Care's top priority is your pet. They accept cats, dogs, birds, turtles or any kind of pet. Even those with special needs.
They have a large, 7200 square foot building, building off of highway 5 behind Mr. Movies and next to Holiday. And they are more than willing to give free tours during business hours.
I haven't been there myself, but will be keeping it in mind as we have a cat that needs medication twice a day. If we can't find family to take care of him when we go on vacation, it'll be nice to know we have a second choice.
V.I.P. Pet Boarding and Day Care
200 Highway 5 West
Waconia, MN 55387
952.442.5155
www.vippetboarding.com